Katherine Wright is a native of Seattle. Her life as an artist started early, having attended Cornish School for Allied Arts in 1971. She was an instructor of architectural graphics and perspective at WSU in 1974 and continues to teach this subject.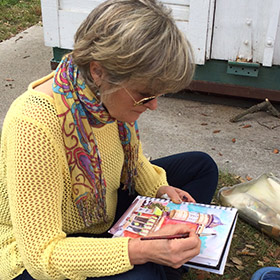 A Washington State University graduate with a Bachelor of Architecture, and a Licensed Architect, she began creating illustration for architects and realtors in 1992, eventually adding watercolors and mixed media to her milieu. Over the years she has illustrated numerous projects, taught architectural illustration and watercolor.
Katherine chose to enter into the world of professional architectural illustration in 2001. Currently she is a self employed artist and architect. While living in Italy from 2005 to 2013, she had the opportunity to dedicate time to watercolors, and showed as a watercolor artist in many Italian venues. For two years she was the manager of K2 Art Gallery in Giovinazzo, Italy.
Her commercial architectural career has been wide-ranging, most recently as former Senior Architect with Perrault Interior Design LLC, 10ARCH, & Connell Design. Earlier on her work included operations manager for a local construction company and product representative for construction materials.
Involved in yoga for over 20 years, she is a certified yoga instructor. Others activities have included events planner, ski instructor, bike racer and a volunteer for Marymoor Velodrome Association. She is currently involved in various non-profit organizations including YWCA.
Her passion is being out in nature, art, architecture, plein air painting, travel, and Italy. Her studies include watercolor and mixed media, yoga, meditation, and research on history and donkeys.